Cervical Screening Program
Summary
Countries
Fiji, Cook Islands, Solomon Islands and Vanuatu
Goal
Reduce deaths from cervical cancer by working with national governments, non-government organisations and key stakeholders to strengthen national health systems and increase cervical cancer screening and treatment appropriate to the local context.
Context
Cervical cancer is the second most common cancer in women worldwide but also one of the most preventable and treatable forms if detected early and managed effectively.
In 2012, the World Health Organisation reported that 528,000 new cases of cervical cancer were diagnosed and 266,000 women died of the disease, with nearly 90% of deaths occurring in low and middle-income countries.
Despite evidence that regular cervical cancer screening can save women's lives, in Pacific nations women are dying up to nine times the rate of women in Australia as screening is not routinely available.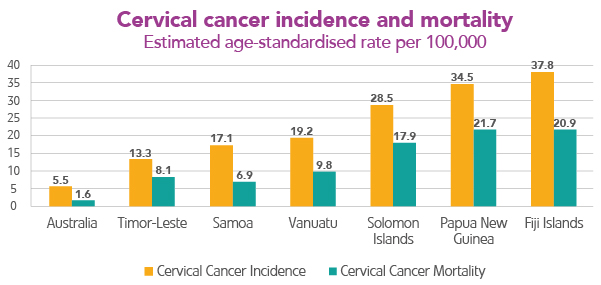 Data source: WHO - International Agency for Research on Cancer
Aims
Our aim is to ensure that comprehensive cervical cancer prevention and control programs are implemented in a sustainable manner within the context of the local health system. We work with local Ministry of Health, NGOs and key stakeholders to:
Determine the adequacy of current cervical cancer prevention, screening and treatment services
Determine the most appropriate method of cervical cancer screening, which may include VIA , Pap tests and HPV DNA testing
Implement a pilot study within the country which includes training of clinicians, supporting the development of appropriate clinical policies, implementing client information and promotional strategies, data collection, monitoring and evaluation and quality assurance processes and document the outcomes
Develop recommendations for future cervical prevention, screening and treatment programs
Support local implementation to ensure sustainability of the program within the local health system
Progress
6,071 women screened
126 Clinicians trained in Fiji, Cook Islands, Solomon Islands and Vanuatu
Training program customised for the Pacific
Feasibility study completed in Fiji for visual inspection with acetic acid (VIA) followed by cryotherapy. The Fiji Ministry of Health and Medical Services published the Cervical Cancer Screening Policy 2015, implementing VIA and cryotherapy as part of the cervical cancer screening pathway.
Promotional resources developed and training provided to nurses and community educators in Cook Islands to promote and deliver cervical screening.
Delivering clinical training, promotional strategies and project management to support the HPV DNA pilot in Vanuatu.
Commenced pilot of visual inspection with acetic acid (VIA) followed by cryotherapy in the Solomon Islands.
Advocated for cervical cancer prevention, screening and treatment to be a regional priority in the Framework for Pacific Regionalism.
Projects