Pregnant? Working through your options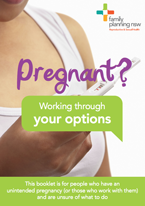 "Pregnant?....Working through your options" is a booklet for people who have an unintended pregnancy (or those who work with them) and are unsure of what to do. 
This resource includes information about the options available, some of the issues to consider, where to go for support and tools to assist decision-making. It is 31 pages and is designed so that it can be used as a "workbook" where women can complete the decision making tools as they work through their options. This resource can also support professionals in their work with women presenting with an unintended pregnancy.