Stop Cervical Cancer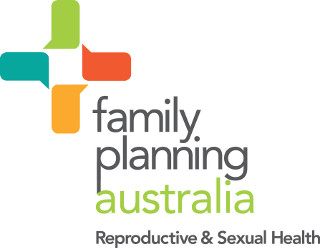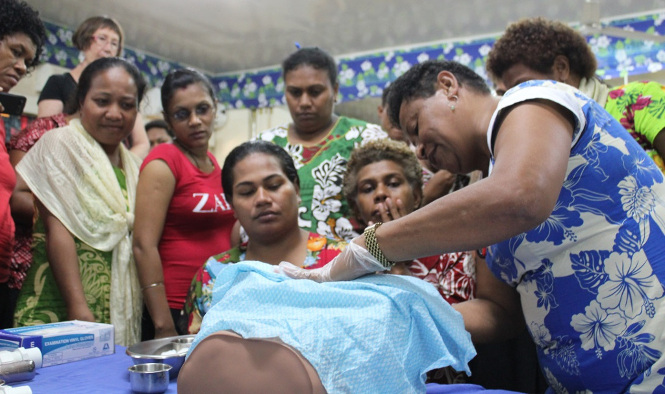 Cervical cancer screening and treatment saves lives, however it is not widely available in the Pacific. As a result, women are dying at up to 13 times the rate of women in Australia. Our aim is to ensure that comprehensive cervical cancer prevention and control programs are implemented in a sustainable manner within the context of the local health system.
Working with local communities, we implement projects that build partnerships, train clinicians, support the development of appropriate clinical policies, implement data collection, provide community education and conduct monitoring and evaluation. Since 2010, we have provided training to over 200 clinicians, preventing more than 14,500 cervical cancer deaths and supported Fiji to develop the first national cervical cancer screening policy in the Pacific.
Cervical cancer is the second most frequent cancer among women in Solomon Islands. Family Planning Australia was invited to support the development of a cervical cancer prevention strategy and to assist the National Reproductive Health team to plan, implement and evaluate a cervical screening pilot project. Between 2015-2019, we piloted a cervical cancer screening and treatment program to build the capacity of nurses and midwives to provide screening and treatment. In 2020, we will scale up this program in partnership with Solomon Islands government to Malaita and Western Province.
"we have always and wanted to have a screening program for women in the country especially since a lot of our women don't really know much about cervical cancer and they do not present until they have issues"
Achievements:
54 nurses trained
8,500 women screened
Screening underway across 7 clinics in Honiara, Guadalcanal Plains and Isabel Province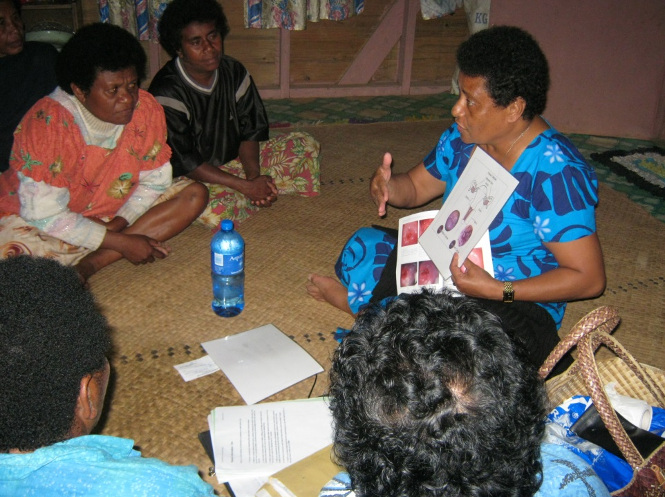 Vanuatu's cervical cancer mortality rate is 6 times the Australian rate. Family Planning Australia implemented a cervical cancer screening and treatment program from 2015-2019, which aimed to encourage women to be screened, for early detection. The project made screening more regularly available for more women by upskilling nursing staff in sexual and reproductive health clinics. The program also worked to determine the feasibility of HPV DNA as a screening method in Vanuatu.
"I was so happy with my visit because although I still look healthy, I didn't know what was happening in my body…the cervical cancer clinic was so helpful."
Achievements:
31 clinicians trained
6,831 women screened
Screening offered in 6 clinics on the islands of Efate and Santo
Fiji has one of the highest cervical cancer mortality rates in the Pacific. Family Planning Australia worked with governments and local organisations to increase screening and provide sustainable treatment options. Between 2011-2014, our project supported the Fiji Ministry of Health and Medical Services to implement a national cervical cancer screening program, customised training materials to the Pacific environment, and developed resources to educate women and men about cervical cancer.
Achievements:
69 clinicians trained
3,654 women screened for cervical cancer
Awareness raising activities reached over 6,000 people
Cook Islands
In 2014, we worked with the Cook Islands Family Welfare Association and the Ministry of Health to provide training to clinicians to perform cervical screening and to community workers to provide information and education to women to encourage them to attend for screening. We develop a pamphlet and poster depicting three female Cook Island Government parliamentarians, including the Speaker of the House, promoting regular cervical screening for cancer prevention, which were distributed in Rarotonga and eight outer islands.
Achievements:
29 clinicians trained
Customised teaching materials for community education training and clinical training in cervical screening
Publications
Fong J, Gyaneshwar R, Lin S, Morrell S, Taylor R, Brassil A, Stuart A, McGowan C., Cervical screening using visual inspection with acetic acid (VIA) and treatment with cryotherapy in Fiji., Asian Pac J Cancer Prev, 2014;15(24), 10757-62, Jan 2014