Cervical Cancer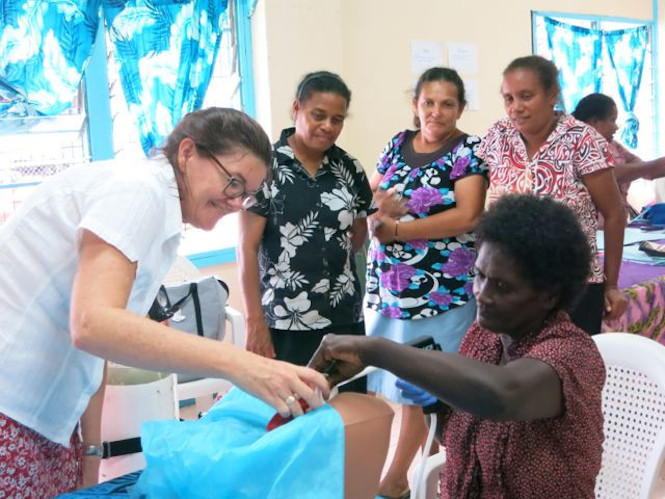 CERVICAL CANCER
CERVICAL CANCER IS ONE OF THE MOST PREVENTABLE AND TREATABLE FORMS OF CANCER IF IT IS DETECTED EARLY AND MANAGED EFFECTIVELY.
Despite this, cervical cancer screening is not widely available in the Pacific. As a result, women are dying at up to 13 times the rate of women in Australia. Death from cervical cancer is preventable when there are national vaccination and screening programs in place and where appropriate treatment is available.
The World Health Organisation (WHO) in its global strategy defines success in eliminating cervical cancer as 90-70-90 where:
90% of girls are fully vaccinated with the HPV vaccine by age 15
70% of women are screened with a high-performance test by 35 and 45 years of age and
90% of women identified with cervical disease receive treatment
For every dollar invested in cervical cancer prevention, an estimated $5 will be returned to the economy, owing to increases in women's participation in work and society.
Our projects ensure that comprehensive cervical cancer prevention and control programs are implemented in a sustainable manner within the context of local health systems by building partnerships, supporting clinical services, providing education and training, conducting research and engaging in advocacy.
Our impact:
200 clinicians trained
23,000 women screened
6 Pacific countries

OUR PROJECTS
Solomon Islands
In Solomon Islands, we are working to deliver a national cervical cancer screening and treatment program, with an aim of having every women of reproductive age screened within the next 3-5 years. This project is made possible through funding from DFAT ANCP and in partnership with the Solomon Islands Ministry of Health and Medical Services, the Solomon Islands Planned Parenthood Association and SurfAid. In 2020, the program screened 2,500 women and trained 5 local clinicians to deliver services.
Tuvalu
With funding through DFAT ANCP and Cepheid, we are working in partnership with Tuvalu Family Health Association, Tuvalu Ministry of Health, and the World Health Organisation to implement the cervical cancer screening and treatment project that aims to eliminate cervical cancer in Tuvalu within the next decade.
Vanuatu and PNG
With funding from the Minderoo Foundation, we are working in a consortium including the NSW Cancer Council, VCS Foundation, Kirby Institute and the University of Melbourne to deliver cervical cancer training and resources as part of this larger research project.
Previous Projects
We have previously worked in Fiji, Cook Islands and Vanuatu, to implement cervical cancer screening and treatment programs including training of clinicians, development of materials and data collection.
Check out our resources, including research reports, journal articles, and strategies.