Confidentiality and privacy for young people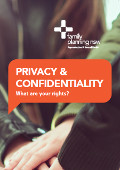 Family Planning NSW is supported by the Australian Charter of Healthcare Rights, protecting the rights of young people and believing that high quality reproductive and sexual health information and services should be available to everyone. Family Planning NSW services aim to help you develop practical skills and knowledge so you can participate to the best of your ability in society and have confidence in the relationships and all aspects of sexuality.
Privacy
The privacy of all Family Planning NSW clients is protected by law. This means that your health care information cannot be shared with others without your consent. Privacy law also protects your access to the information we hold about you – and means that you can see and read your clinical record, as long as this will not put you at risk, or breach the privacy of others.
Confidentiality
Confidentiality is an important part of your relationship with the staff at Family Planning NSW because it means that:
You will feel comfortable seeking help to deal with the issues worrying you
You will be able to share information that will help our staff give you the best advice
You will be able to discuss issues openly and make the best decisions
Our duty of care to you as a young person
If Family Planning NSW staff become concerned about you and think that you or others may be at risk, we must meet our duty of care. This means that we may need to contact authorities who can help protect you. Where possible we will work with you openly, telling you about our concerns, advising you who else might need to be informed, and working out a plan of action with you.
Making decisions on your own or talking to the family
Having the support of your parents or another responsible adult can be beneficial for young people under the age of 16 years and we can talk to you about the best way to involve them in your care. Sharing information in this way would be your decision and we would not speak on your behalf without your permission. If we think you are able to make decisions about your own health, we will respect your decision. We will not tell your family without your consent and will not involve others unless we are worried about your safety.
Family Planning NSW and bulk billing through Medicare
Medicare Australia protects the confidentiality of those aged 14 years or older. If you are 14 years or older, Medicare does not give information about your health care services to your parents without your consent.
For young people aged under 14 years of age, parents do have access to health care information held by Medicare. Family Planning NSW may choose not to claim from Medicare if you are under 14, to protect your confidentiality. Please talk to your doctor or nurse.