Cervical Screening Project - Solomon Islands
Summary
Partner
Solomon Islands Ministry of Health and Medical Services
Aims
Test the feasibility of using VIA and cryotherapy in the Solomon Islands which includes:
training clinicians 
supporting the development of appropriate clinical policies 
implementing client information and promotional strategies 
data collection, monitoring and evaluation
quality assurance processes and documenting outcomes
Progress
Commenced cervical screening pilot in 7 clinics in Honiara and the Guadalcanal Plains using VIA and cryotherapy
Trained 20 clinicians were trained in VIA screening and cryotherapy treatment
Screened 1,600 women
In 2017/18 the project aims to:
Screen a further 2,000 women at existing and additional pilot sites in Honiara.
Three new pilot sites will be established in the Ysabel Province
Train an additional 8 clinicians in the Ysabel Province
We will also work with the Solomon Islands Nursing School and Nursing Council to determine the appropriate future delivery of the Cervical Screening and Cryotherapy Training Course.
Implement community awareness strategies to encourage women to attend screening
Village Health Volunteers (VHV) in Ysabel Province provided with Information, Education and Communication (IEC) materials and training on how to use these materials to encourage women to access clinics.
Case Study: Cervical cancer screening in the Solomon Islands
Roselyn who is 31 years old had travelled to the Good Samaritan Hospital with some of her seven children to receive her contraceptive injection. Her long journey started the previous day when she walked a few hours from her village to sleep by the roadside overnight and catch the morning bus to the hospital. When she arrived at the reproductive health service, the midwives were delivering awareness raising sessions to women attending the service and waiting at the hospital for other outpatient services.
Roselyn was motivated to undertake screening stating "I need to be healthy for my children". Roselyn is representative of the majority of Solomon Islands women. She lives in a village with poor access to health services and has never been screened for cervical cancer.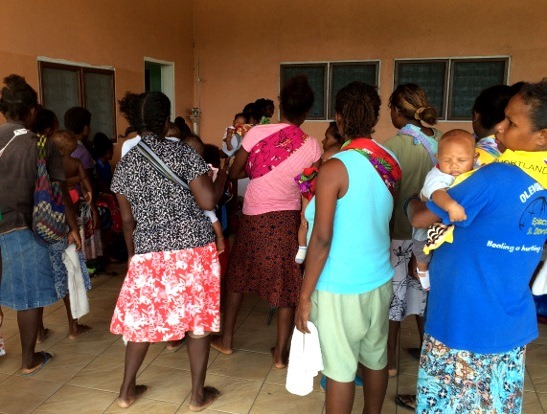 Women from Guadalcanal province waiting at the Good Samaritan Hospital
The midwife screened Roselyn using visual inspection with acetic acid (VIA) and her result was normal. Roselyn was very happy in sharing the news with some of her friends who had gathered outside the clinic, who, with Roselyn's encouragement, were also screened. An immediate result allows treatment at the same visit with cryotherapy. This is so important in rural settings where women like Roselyn, who do not have a mobile phone and cannot provide a contact number, are difficult to contact for results and follow-up treatment.