Cervical Screening Project - Vanuatu
Summary
Partners
Vanuatu Family Health Association
Australian Cervical Cancer Foundation
Aims
Develop a skilled clinical workforce capable of providing cervical screening
Implement a community awareness program to encourage women to improve access screening services
Support the Australian Cervical Cancer Foundation to test the feasibility of HPV DNA as screening method for Vanuatu
Testing equipment and vaccines have been donated by the Frazer Family Foundation, through the Australian Cervical Cancer Foundation.
Progress
Screening is being offered in six clinics on the islands of Efate and Santo.
12 nurses were trained to perform cervical screening (using Pap tests and HPV DNA).
3,992 women were screened for cervical cancer
In 2017/18 the project aims to:
Screen a further 1,500 women
Train 6 midwives and nurses in Port Vila to perform cervical screening
Conduct 4 outreach activities to increase access for women outside main towns on Efate and Espiritu Santo
Ensure quality services by providing ongoing support to nurses previously trained in cervical screening
Encourage women to attend screening by supporting the delivery of community awareness strategies
Case study: Cervical cancer screening in Vanuatu
Mrs T* travelled from her home on the island of Tanna to the capital, Port Vila, with a women's group to sell her hand made goods and make a little money. She had never heard of, nor had any plans for, cervical screening. It was only on that day, at the Mama's markets, that she heard Nellie, the nurse, telling all the women there about the importance of screening for cervical cancer.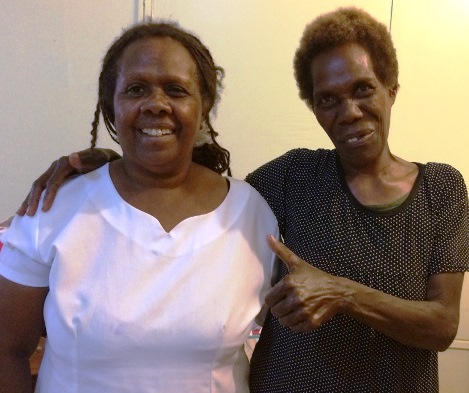 Mrs T is 47 years old and had never had any type of gynaecological exam. She is very proud to have seven out of seven live children which she had birthed completely alone in her village home. She said that the first was the easiest because she didn't have to worry about any other children while she delivered and cleaned up after the birth. She was very nervous about the screening but was determined to be brave because she did know about cervical cancer - a woman she knew had died from it.
Mrs T speaks a different dialect of the main language Bislama to most other women screened in Port Vila. Fortunately however, Nellie, the project nurse, is also from Tanna and Mrs T was very excited to be cared for by her.
Most women in Vanuatu live in rural areas. Like Mrs T, they have no access to screening or knowledge of it, and very little healthcare. The geography of island nations such as Vanuatu is a constant barrier. Screening programs must overcome this barrier to ensure that women throughout the Pacific can be screened and treated, and deaths are prevented.