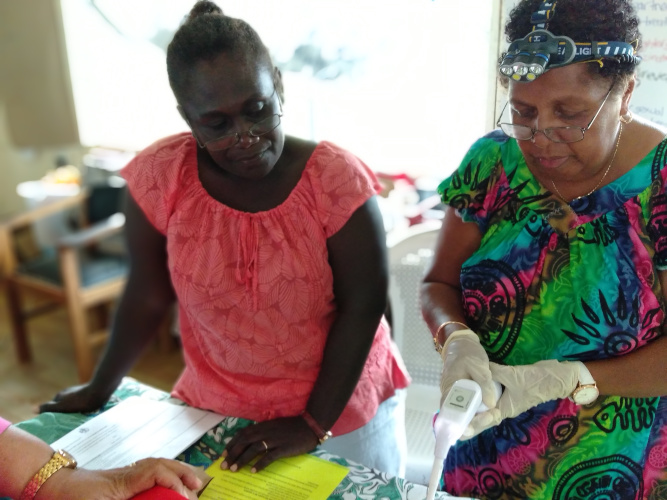 For more than a decade, Family Planning NSW has partnered with the Australian Department of Foreign Affairs and Trade (DFAT) to build the capacity of local partners to deliver quality sexual and reproductive health services in the Pacific.
Family Planning Australia, the international arm of Family Planning NSW, has been active in supporting sexual and reproductive education in Solomon Islands since 2010. In 2015, we were invited by the Solomon Islands Ministry of Health and Medical Services to support the roll out a cervical cancer screening program across the country.
Despite the disruption caused by the global coronavirus pandemic, we are continuing our mission to eradicate cervical cancer in Solomon Islands. Between September and December 2020, 1,500 women were screened across five provinces, exceeding expected targets.
Why cervical cancer?
In Solomon Islands, cervical cancer is the second most common cancer among women.
The disproportionate rate of cervical cancer incidence and mortality has significant societal effects on people living in Solomon Islands. It hinders Solomon Islander women from achieving their potential and becoming leaders in their communities.
Family Planning Australia conducted a successful pilot cervical cancer screening program in the provinces of Honiara, Guadalcanal and Isabel between 2015 and 2018.
Following a review, the Solomon Islands Ministry of Health and Medical Services and key stakeholders agreed to scale up the cervical cancer screening program across the country, commencing with Western and Malaita provinces in 2019-20.
Stakeholders in Solomon Islands say there are not enough doctors or nurses trained to do Pap smears in the country, and getting results from the provinces is, "…almost always impossible." In fact, our research showed us that some patients waited almost a year for results.
Family Planning Australia has trained local nurses and clinicians to use VIA (visual inspection with acetic acid) to identify pre-cancerous cells, and to use cryotherapy to remove these lesions from the cervix. More recently, we have introduced thermal ablation devices for treatment, which are battery-operated and more portable when working in remote locations.
Since 2015, Family Planning Australia has provided training to 89 Solomon Islander clinicians, and screened around 9,000 Solomon Islander women. With ongoing support from the Australian Government, it is our hope that Solomon Islands will have a nationally supported cervical cancer program and be on track to eradicate the disease entirely.
How has COVID-19 affected the program?
COVID-19 has interrupted our direct presence in the Solomon Islands, but the demand for cervical screening remains a national priority. Our clinical training program has ensured that these priority procedures can continue even during this period.
With DFAT support, we were able to access the Pacific freight corridor during 2020 to send thermal ablation devices to Solomon Islands. This means we can conduct remote training and mentoring, ensuring that even without travel, the cervical cancer screening and treatment program can continue with remote support from Family Planning Australia.
Why invest in health outcomes in the Pacific?
It is important for Australian NGOs to use our expertise to support improved health outcomes in the Pacific. In turn, this will create a Pacific that is more socially and economically empowered, and foster a stronger partnership between Australia and our neighbours.
Beyond the support given to us by DFAT and the Australian NGO Cooperation Program, we must acknowledge the generosity of the John James Foundation, the Solomon Islands Ministry of Health and Medical Services, and Solomon Islands Planned Parenthood Association.