Me Myself and I: Puberty information for everybody
Me Myself and I: Puberty information for everybody is Family Planning NSWs premier resource about puberty for young people aged 8 to late adolescence.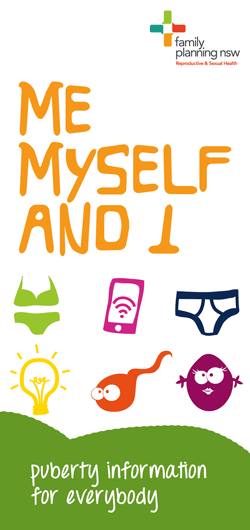 Brightly styled, with interactive activities and an easy to navigate format, this resource was written and designed in consultation with young people to help ensure it delivers the most pertinent and valuable information.
Me Myself and I has 32 pages full of tailored puberty content for young people including:
body changes
social changes
emotional changes
the impact of technology
Additionally, interactive activities included in Me Myself and I give young people the opportunity to reflect on and plan for puberty changes that affect them.
If you work with or in a place frequented by young people, you will find Me Myself and I a valuable resource. It is useful for:
primary teachers
secondary teachers
parents
counsellors
youth workers
sexual health workers
S&RH Health Promotion workers
doctors or nurses with young clientele
libraries
waiting areas
The booklet is DL size. Suitable for: NSW, Australia.
Other FPNSW resources which may interest you:
Safe Sex Packs for Young People
What Suits Me: Contraceptive Options for Everybody
You & Me = Us: All About Relationships
Your Best Defence: Keeping an eye on STIs
For more information about resources and services for young people, please contact:
Health Promotion
Phone: (02) 8752 4300
Email: healthpromotion@fpnsw.org.au