All About Sex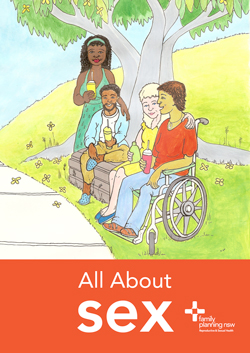 All About Sex is a series of fact sheets for people with intellectual disability and the people who support them. The fact sheets are easy to read and include illustrations to help people with intellectual disability learn about sexuality and relationships. The fact sheets cover a range of topics including bodies, relationships, sex, pregnancy and reproduction, sexual health and sexual assault.
Some people with intellectual disability will be able to read the fact sheets independently while others will need the support of a family member, teacher, support worker or advocate. The fact sheets have been designed to make it easier for support people to have conversations and provide information about sexuality and relationships.
All About Sex is available as a 108 page book from the Family Planning NSW shop for $10 plus postage. The fact sheets are also available for free download below.
New Lesbian, Gay, Bisexual and Transgender factsheets! Only available online (futher down this page).
All About Sex contains explicit language and illustrations for the purpose of teaching people with intellectual disability.
Fact Sheets
Each fact sheet is available in PDF and Word format. Please note, the Word versions are text only and don't include any illustrations.